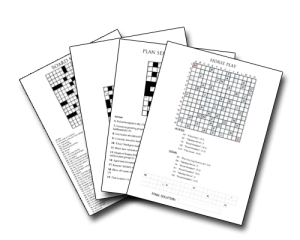 On The Square is a joint effort with masterful crossword constructor Doug Peterson.
Crosswords, acrostics, and other cruciverbal variants provide clues to the final phrase in this chess-themed multi-puzzle suite.
Puzzles
Opening Moves, an acrostic
Board Members, a traditional crossword
Plan Sexy Leg Routine (6), a cryptic crossword
Checkmate, a visual crossword
Horse Play, the mutant offspring of a crossword and a Knight's Tour puzzle
Introduced at the SoCal puzzle party, May 22, 2010. Played in teams of 5-6.
Download